Introducing Jimmy Shergill As Ezeepay's Brand Ambassador: Strengthening Our Vision For Secure And Convenient Payments
The best AEPS app in India, Ezeepay, just revealed that Jimmy Shergill, a well-known Bollywood actor, will serve as its brand ambassador. The action is a part of Ezeepay's approach to support its mission of offering its users safe and practical payment options.
A government program called AEPS (Aadhaar Enabled Payment System) enables citizens to conduct financial transactions using their Aadhaar numbers and biometric identification. With their Aadhaar number and biometric authentication, customers of Ezeepay, the best AEPS app in India, can make safe and practical payments.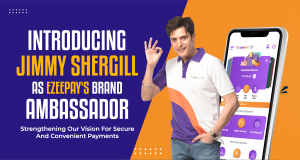 Ezeepay has chosen Jimmy Shergill as its brand ambassador to raise awareness of the advantages of AEPS and the ease of utilizing the Ezeepay app. Jimmy Shergill, a well-known Bollywood actor with a sizable fan base, has appeared in various films. It is anticipated that his fame and appeal will aid Ezeepay in expanding its market and promoting the use of AEPS and the Ezeepay app.
Increasing The Strength Of Ezeepay's Commitment To Convenient And Secure Payments
Ezeepay aims to offer its customers safe and practical payment options. The company has been striving toward this objective by creating and enhancing its AEPS app. With their Aadhaar number and biometric authentication, app users may complete transactions swiftly and securely.
Ezeepay has chosen Jimmy Shergill as its brand ambassador to support its mission of safe and straightforward payments. Jimmy Shergill's partnership with Ezeepay will aid the business in spreading awareness of its app and the advantages of using AEPS for financial transactions.
The Value Of Downloading An AEPS App
AEPS is a ground-breaking payment system that has simplified and secured financial transactions for individuals all over India. Transactions are enabled by the system using Aadhaar numbers and biometric authentication, making it a safe and practical choice for users.
Users must download an AEPS app to their mobile devices to use AEPS.
Although many AEPS apps are on the market, people regard Ezeepay as the best AEPS app in India. The software is simple to download and use, providing users with several features and advantages.
The Google Play Market and the Apple App Store are where users may get the Ezeepay app. Users can quickly get the AEPS app download for free by following the precise directions available in the app store.
Advantages Of Using The AEPS App From Ezeepay
The AEPS app from Ezeepay is currently the best in India, and for a good reason. The software provides its users with various features and advantages, making it a practical and secure solution for financial transactions. Using Ezeepay has several significant advantages, including the following:
Secure And Safe Business Dealings
The AEPS app from Ezeepay uses biometric authentication and an Aadhaar number to enable transactions, making it a secure and safe choice for users. The program ensures that transactions are accurate and secure, lowering the possibility of fraud and mistakes.
Simple To Use
The app's user-friendly interface makes it simple for users to navigate through it and conduct transactions. Users may easily understand and utilize the app because of its user-friendly design and layout.
Available Always
Because the app is accessible around-the-clock, users may conduct transactions whenever they want. Those who need to complete urgent payments or transactions outside of usual business hours will find this convenient.
A Quick Transaction
Ezeepay's AEPS app is a practical choice for users making urgent payments because they handle transactions promptly. Users can rapidly and without delays transfer funds, pay bills, or recharge their mobile phones.
Several Methods Of Payment
The software offers several payment options, including transfer of funds, bill payment, and cell recharge. Consumers can select the payment that best satisfies their requirements and preferences.
Enticing Cashback Deals
Ezeepay is a popular option for customers who want to save cash on their transactions because it offers enticing cashback offers to all its users. Users can accrue cashback on their purchases, which you can use for additional benefits or future purchases.
Ease Of Access
Customers can utilize the AEPS app from any location if they have an internet connection. It indicates that consumers don't need to travel to a bank or other financial institution to complete transactions; they may do it from the convenience of their homes.
Pocket Friendly
Those who want to cut costs on transaction fees might consider using Ezeepay's AEPS app. Those looking to save cash on their transactions can use the app because it has low transaction costs.
Conclusion
Jimmy Shergill's selection by Ezeepay as its brand ambassador is a calculated decision that will aid the company in promoting its app and raising awareness of the advantages of using the AEPS service for financial transactions. Users who wish to make secure and convenient payments can choose Ezeepay's AEPS app because of its user-friendly UI, secure transactions, and attractive cashback offers. The app is available for download from the Apple App Store or Google Play Store, and users may begin using it immediately.