Looking for ways to increase your earnings at your current Kirana store?
Kirana shops play a vital role in Indian retail, serving as community hubs for locals. These small businesses cater to their customers' everyday needs by selling a variety of household essentials and other necessary items.
For many years, Kirana shop owners have been earning the same amount of money every month despite having the same number of customers. However, by offering Ezeepay services at their local shop, they can increase their monthly earnings by an additional 30,000 to 60,000 rupees. This will also attract more customers and turn their Kirana store into a mini-bank.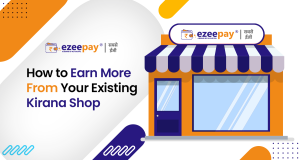 Services You Can Integrate Into Your Kirana Shop with Ezeepay
Kirana shop owners can offer banking services using ezeepay.
AEPS service
Kiran shop owners can now register as agents through Ezeepay and offer their customers the convenience of withdrawing cash, checking their balance, and getting mini statements. By doing so, they can earn commission and increase their profits.
You can turn Your Store into an ATM by Using a Micro ATM Machine.
kirana shop owners have an exciting opportunity to transform their stores into ATMs by using a small, portable Micro ATM machine. This machine operates with the cash available in the shop and can also serve as a point-of-sale (POS) device to accept debit card payments from customers. Having this Micro ATM in the shop can attract more customers, leading to increased footfall. Plus, for every transaction made on the Micro ATM, the shop owner earns a commission, which means more potential earnings for them. It's a win-win situation that can help shop owners make extra money.
Add Utility and bill Payment Service
Kirana stores have a large customer base, which presents an excellent opportunity for them to offer additional services like utility bill payments, mobile recharges, electricity bills, gas bill payments, and DTH recharges. The best part is that they can provide these services to their existing customers at no extra cost and earn commissions on these transactions, creating an additional revenue stream.
One of the most profitable ventures for Kirana shop owners is to help people obtain their PAN cards. By partnering with Ezeepay, they can set up their PAN card service business in just one day. The process is quick and efficient, taking only two business days to generate the PAN cards, and there's no need to deal with paper documents, making it even more convenient. This can help Kirana shop owners earn up to 30,000 rupees per month, offering a great financial opportunity.
Here are the steps to begin offering the services through your store and generate income.
The first step is to create an Ezeepay account.

Complete the application and send the required data.

Once your account is approved, you can start accepting payments from customers.

If you have questions or need help setting up your account, please get in touch with Ezeepay customer service.
Required documents and minimum requirements:
You must be at least 18 years old to open an ezeepay account.

You must have valid identification, such as a passport or driving license, to prove your identity.

You must have up-to-date contact information and business address.

To process payment, you need a valid credit or debit card.
Conclusion
In conclusion, by integrating Ezeepay services, Kirana shop owners in India can transform their businesses and increase their earnings significantly. Offering banking services through AEPS and setting up Micro ATMs can attract more customers and boost profits. Additionally, providing utility and bill payment options and offering PAN card services create additional revenue streams. Embracing Ezeepay opens new opportunities for Kirana shops to become mini-banks and financial hubs, benefiting both shop owners and their local communities.