Simplify Aeps Registration Process
with Ezeepay
Join us today and say goodbye to complicated procedures and paperwork. With Ezeepay, registering for AEPS is a breeze. Our user-friendly interface and easy steps will guide you effortlessly through the entire registration process, giving you a hassle-free experience. Experience the convenience of simplified AEPS registration with Ezeepay. Join us now!
Becoming Aeps Service
Provider

of

Ezeepay
Start your journey towards numerous benefits by becoming an AEPS Service Provider with Ezeepay. Joining our network opens up a world of advantages that will take your business to new heights. Here are just a few of the benefits you can enjoy:
Increased Revenue
Expanded Customer Base
Cutting-edge Technology

Enhanced Customer Experience
Comprehensive Support
Enhanced Customer Experience

Competitive Advantage
Comprehensive Support
Enhanced Customer Experience

AEPS Agent can check the balance of the customer simply in less than a minute by using Ezeepay portal or mobile application. We have the best mobile App to do AEPS.

Instead of searching for an ATM, AEPS Agents of Ezeepay can convert their own store into an ATM using this service. Customers can withdraw money using their Aadhaar Number and finger print.

Checking the mini statement of a customer has never been simpler. AEPS Agent will also get a commission every time he checks the mini statement of the customer via AEPS.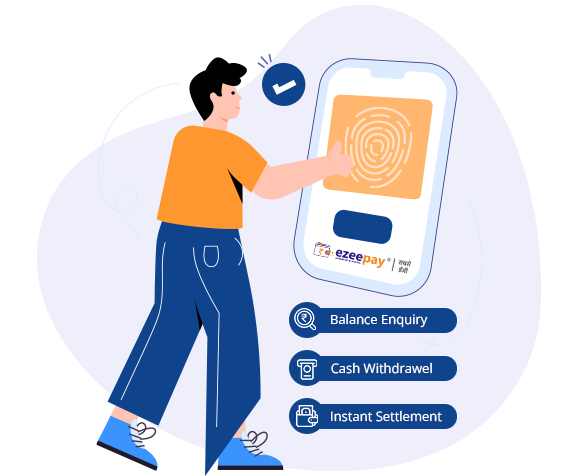 What is
AEPS Service
AEPS Service: Financial Transactions for All is a revolutionary banking service that aims to provide inclusive and accessible financial transactions to individuals across various segments of society. It leverages the Aadhaar Enabled Payment System (AEPS) to enable secure and convenient banking services for all users, regardless of their location or access to traditional banking facilities.
Join the Ezeepay network as an AEPS Agent or AEPS Distributor and unlock a world of earning potential. We are dedicated to not only adding you to our network but also providing guidance on how to maximize your earnings. Getting started is easy - simply fill out our straightforward AEPS Agent registration form and you'll be on your way.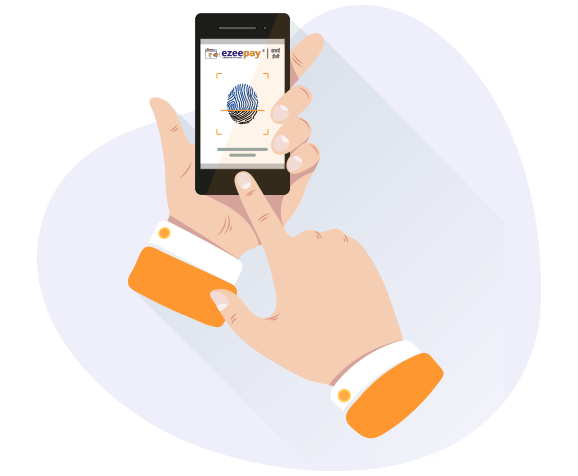 How does it
work?
Once you have completed the AEPS Agent registration process, we will generate your Ezeepay AEPS Agent login ID. The AEPS process itself is incredibly simple. Here's how it works:
Connect and Install Biometric Device: As an AEPS Agent, you will connect and install a biometric device to your computer or smartphone.
Input Customer Aadhaar Details: Choose between Cash Withdrawal or Balance Inquiry, depending on the customer's needs.
Select Transaction Type: Choose between Cash Withdrawal or Balance Inquiry, depending on the customer's needs.
Customer Authentication: You will input the customer's Aadhaar number and select the bank name associated with their account.
Real-Time Transaction Processing: The customer's bank account will be debited for the withdrawal amount, while your Ezeepay wallet account will be credited in real-time. Additionally, you will receive an additional commission amount.
Transaction Receipt and SMS Confirmation: As an AEPS Agent, you will receive a transaction receipt, and the customer will receive an SMS confirmation from their bank, ensuring transparency and peace of mind.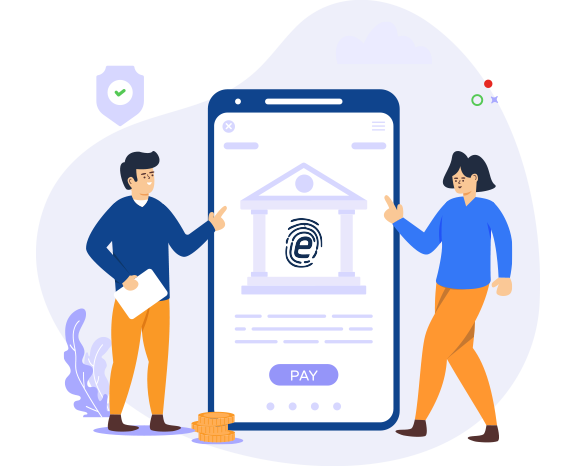 Top
Features Of Services
Real-Time Transaction Settlement with Commission: With Ezeepay AEPS, you can enjoy the benefit of real-time transaction settlement, ensuring that your commissions are credited promptly.
Safe & Secure System: We prioritize the security of your transactions. Our AEPS platform employs robust security measures to protect your sensitive data and provide a safe environment for financial transactions.
Convenient Aadhaar Authentication: No need to carry debit or credit cards anymore. With Ezeepay AEPS, all you need is the customer's Aadhaar number and their fingerprint authentication for seamless and secure transactions.
Easy Money Withdrawal: Say goodbye to long queues at banks or ATMs. Our AEPS services allow you to easily withdraw money without the hassle of waiting in lines, making it a convenient and time-saving option.
Quick Transactions: We understand the value of your time. With Ezeepay AEPS, completing a transaction takes less than a minute, allowing you to serve more customers efficiently.
Why choose
Ezeepay

for AEPS Service?

Trusted and Reliable
Ezeepay is a trusted fintech brand known for its reliability and security in processing AEPS transactions.

Extensive Network:
Ezeepay's extensive network of authorized Business Correspondents (BCs) ensures convenient access to AEPS services at nearby outlets.

User-Friendly Experience
Ezeepay offers a user-friendly interface and streamlined processes for seamless AEPS transactions. Our intuitive platform ensures a hassle-free experience for both users and BCs.

Comprehensive Services
Ezeepay's AEPS Service provides cash transactions, balance inquiries, and fund transfers, offering convenience and accessibility for users.

Cutting-Edge Technology
With cutting-edge technology, Ezeepay delivers secure and efficient AEPS services. Our platform prioritizes user data security and transaction integrity through robust measures.

Dedicated Support
Ezeepay provides dedicated customer support for a smooth AEPS experience, addressing queries and concerns promptly for users and BCs.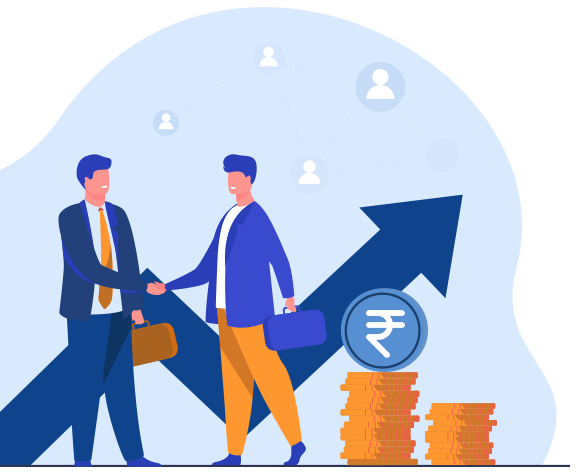 Activation
Process
Any new or existing business partner can do AEPS free portal registration with a simple documentation process. All you need to do is to submit your PAN Card and Aadhar Card and fill the Aadhar Enable Payment System / Aeps registration form. Earn a handsome income on every transaction!
Things required to start AEPS Business?
Smart Phone or Computer with an active internet connection
Biometric Device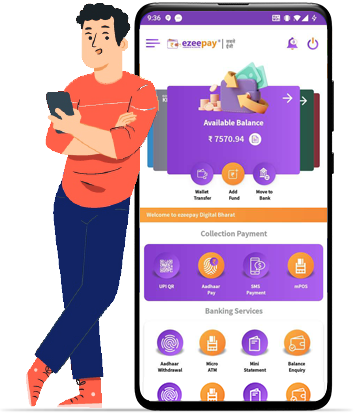 Download EzeePay now
Download our App to get all kinds of banking benefits from anywhere
Use Ezeepay app & take charge of all your transactions to grow your business