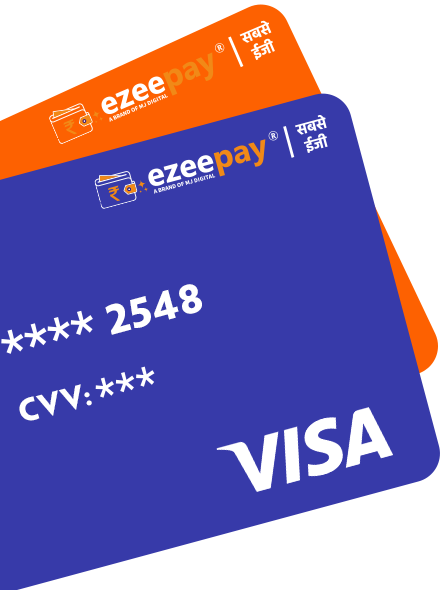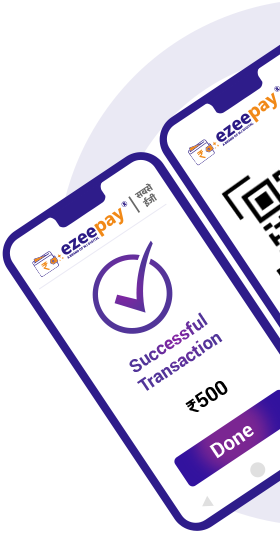 Overview
One App
Multiple Services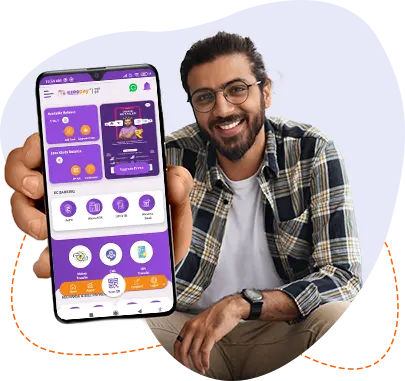 A great earning potential with the opportunity to grow your business with minimal one time investment and zero working capital

As an emerging player in the payments and utility service providers, Ezeepay helps you transfer payments through a robust, highly secure and ultra user-friendly framework. With a family of more than 500,000 agents.
OUR SERVICES
Banking & Digital
Services
All the banking and digital services provided by us are fully secured. You can help your customers with easy digital money transfers, payments, and other banking facilities through Ezeepay.
Neo
Banking Service
Join the new age banking revolution with Ezeepay today. With Ezeepay, you can offer all the leading banking services to your customers at a minimum cost by just using their adhar information and earning a good income as a commission.
Know Us
We Are Here To Make
डिजिटल
भारत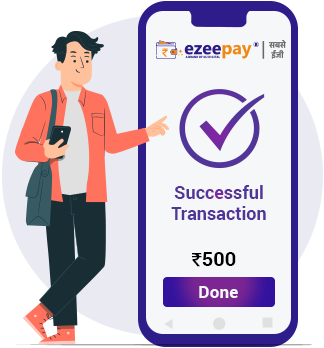 Kuch Bhi
Pay Karo
EzeePay Karo
In this era of digital revolution throughout the nation, EzeePay has emerged as a leading service provider for money transfer through the proven Aadhar Enabled Payment Systems (AEPS) alongside all the other major banking and utility services.
Our Vision
we strive to create digital banking services easy, convenient and accessible in every village and rural areas of india.
Why Join Us?
Benefits Of
Joining Us
Minimum Investment
We offers all the services with a minimum investment and with a secure platform.
Big Bunch of Products
& Services
We offers 60+ services to our agents to serve best way possible to their customer.
Earn Commission on
Every Transaction
Ezeepay offer maximum commission to their agents for all the service transaction.
Prestige & Customer
Loyalty
Ezeepay family became a family of 500k agents with the trust and loyalty of our agents.
Ezeepay Digital
डिजिटल सदी का
डिजिटल
भारत
Become A Part Of Us
We are inviting all distributors, retailers, and individuals to be part of
our digital and smart solutions that can help them earn profits and prestige.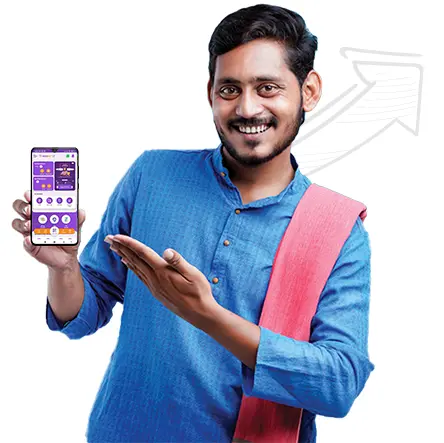 Become An Agent
Agents have a chance to select from our different products and provide better services to their customers. It can help them manage the credits in a better way. You can also assist your customers and increase your income.
You don't need to invest any working capital or money. Also, you get the chance to earn more than Rs. 25,000 a month by associating with us like other agents and retailers.

Join over 5,00,000 retailers. Earn more than 25,000 per month. No working capital required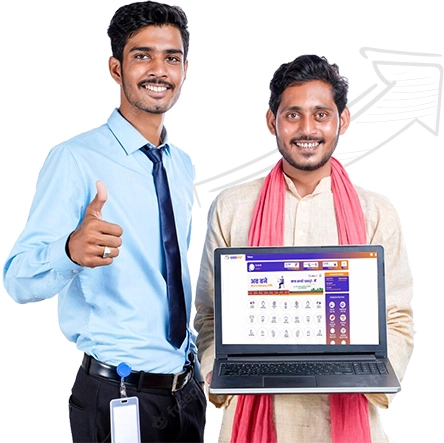 Become A Distributor
You can make more money through your distribution services using Ezeepay. You have the chance to earn more than 25% of the money invested as a commission by providing your network with our services. You do not need to make any physical effort or rent a big fat store or have any staff.
You have the chance to be among our 10,000 distributors across India who are earning more than 50,000/- per month. JOIN NOW!

Join over 10,000 distributors. Earn more than 50,000 per month
Distributor Categories: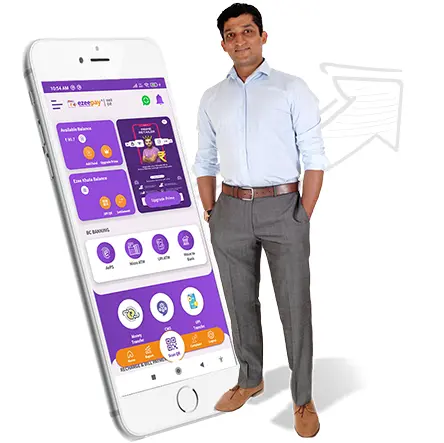 Become A Master Distributor
As a master distributor, you can set up a huge chain of distribution and agents. You don't need to make an investment to rent a store or pay for your help. Also, you have the opportunity to earn 25 per cent as a commission on your overall investment. It can be done by selling our digital products, thus, no physical hard work.
You can make more than Rs 100,000 per month by joining our chain of distribution. So, be a part of our network.

Join us and earn more than 150,000 per month with us
Master Distributor Categories: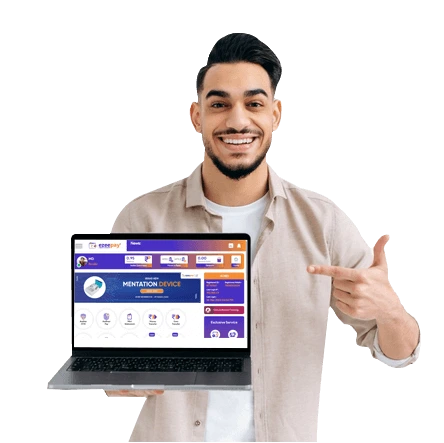 Become A District Franchise
By joining the Ezeepay business franchise model, you have a chance to make more than Rs. 200,000 a month without spending a single paisa on stores, godowns, or staff members, it's all digital. Make use of your contacts and network to earn a 25% commission on the total investment. You can be a part of our membership and be as successful as they are.

Join us and earn more than 200,000 per month with us
District Franchise Categories:
Users Testimonials
What Our
Customer

Say.
Earlier it was a hard to manage cash of my galla but ever since i became a ezeepay agent, it has changed things now i can utilize my cash to serve my customer with aeps services. The Cashflow is amazing and the commissions add up to a handsome amount of income each month.
- By Rajesh, Patna.
Ezeepay, not only has my income increased, but the hassle of depositing money in bank has gone. With AePS and Money transfer services, the money in my galla is being utilized and cash is managed. Around 100-120 customers come to me daily for AePS. It is a very easy, convenient method. It has helped me to being self dependent.
- By Vimal Kumar, Uttarakhand
Ezeepay has not only helped me revive my passion to help people but being a retailer, i have earned more money than a lot of different jobs that my friends are doing. It feels great to be connected with such an amazing organization.
- By Vishnu, Bihar.
Ezeepay has helped me increase my income and has also relieved me from so many tensions. I had a two wheeler loan and now it is cleared. Since i am a retailer myself, My Cibil Score has increased and now i am looking to buy a flat for my family. All thanks to Ezeepay.
- By Kamal, Agra, Uttar Pradesh
Ezeepay has helped me overcome my fear of a financial crisis ever since i have been a retailer with them. The best part is that cashflow is seamless and commissions are deposited instantly.
- By Swapnil, Madhya Pradesh.
Ezeepay has made me a different person. I have seen days where even the basic needs were a luxury to me and i could not afford them. Ever since i have been connected with Ezeepay, my income has increased and being a retailer has exposed to more money making opportunities than ever.
- By Vishal, West Bengal
Trusted by 500,000 + Retailers all over india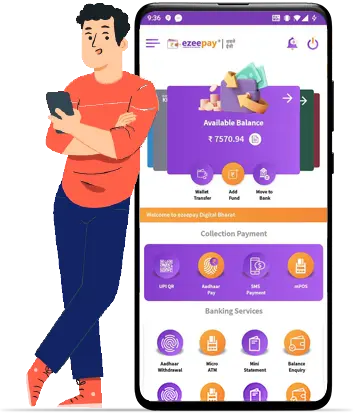 Download EzeePay now
Download our App to get all kinds of banking benefits from anywhere
Use Ezeepay app & take charge of all your transactions to grow your business