The Future of Mobile Recharge Businesses in The Digital Era
The mobile recharge business can expect a market of about $1.3 billion in 2024, as it is projected that 100% of India's population, or 1.3 cr people, will use a mobile phone. In urban areas, each individual may have two or more mobiles for office work.
The rapid expansion of the mobile phone market has made mobile recharge a booming sector, particularly in less-urbanized regions where residents still visit their neighborhood stores to top off their phones. Increase their income by opening an online mobile distribution business in this expanding market.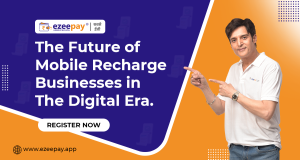 What is Mobile Recharge Business?
Globally, about 80% of adults have access to a mobile device. The basic function of any phone is to facilitate communication between its owner and other people. It's always been the phone's primary purpose.
If you want to start a business recharging mobile phones, you can do it online or in person. As time has progressed, technology has made our phones indispensable companions. Now we can talk, text, and even make videos on our phones. The recharge industry has gone worldwide so that it may deliver its services to customers worldwide.
Types of Recharge Business
Two distinct models of mobile recharge services exist. These include
Local Mobile Recharge Business
You can send a mobile recharge, data, or comparable products to anyone in your immediate area or anywhere in the country through a local mobile recharge firm. Domestic mobile recharge services are another name for this industry.
International Mobile Recharge Business
There are no such restrictions in the international cellphone recharge industry. You may now instantly send a recharge, data, or comparable product anywhere in the world!
Who May Enter the Mobile Recharge Industry?
Anyone with access to a mobile recharge app for shops can enter the mobile recharge business. A thriving clientele who regularly visits your store is all that is required. You could run a store where people stroll in to get their phones charged. Anybody can launch a company of this type, be it a:
Student

Housewife

Business Man

Employee

Employed

Store Owner
Can You Still Buy Traditional Scratch Cards?
The emergence of cellphone recharge has rendered scratch cards obsolete. They have a higher production and distribution cost in comparison.
Mobile recharge scratch cards have been replaced with the digital technique. Recharging via electronic means is another name for it.
Customers preferred online phone recharge because scratch cards were faster and easier.
The convenience and portability of mobile apps cannot be matched. This is a major reason why people are increasingly recharging their phones online.
Advantages of Launching a New Mobile Recharge Business
Start-up Cost
Starting a mobile recharge business requires almost little initial capital. You can start this business with as little as 5,000 to 10,000 INR.
Necessary Tools
Before the advent of smart applications, customers had to use multiple phones to recharge with numerous mobile carriers. However, customers can now use a single app to recharge with multiple carriers from a single phone. One internet-connected smartphone serves the same purpose.
Earn money right away
Commissions from the Mobile Recharge business are paid out quickly to affiliated agents (retailers) following each Mobile Recharge transaction and can be withdrawn to any bank account.
Immediately activate
In only 5 minutes, anyone can have their Mobile Recharge service up and running with a few easy clicks.
Infrastructure
The best aspect about starting a business like this is that you don't need a physical location. This kind of business may be created by anyone, with or without a physical location. If you have a successful retail establishment, offering mobile recharge services is a great way to attract new customers.
Advertisement
The mobile network providers will immediately begin advertising on billboards and hoardings, meaning you won't have to spend much on marketing. Initial foot traffic can be attracted with a simple "All Kinds of Recharges Done Here" sign.
Mobile Business
Here, "mobile" refers to the convenience of taking one's work wherever they go. You may maintain your profit-making recharge business on the road or at the office.
A guide to launching a successful mobile phone recharging business
If you read this article in context, you'll learn the basics of launching a cellphone recharge service.
Find out what the market can offer
The best online mobile recharge company chances with cross-border facilities can be found in specialized web resources. Therefore, doing your homework before jumping into any venture is important.
Make the proper decision
Selecting a service provider that offers multiple recharge options will help your mobile and DTH recharge business grow quickly. The service provider might present you with a business opportunity that benefits both of you, such as
You may easily sell services and bundles from multiple well-known operators from a single, streamlined interface.
Start a reselling business
You, as a reseller, have the option of creating your agent network node. This is for those looking for expansive business possibilities.
Get your paperwork in order
After deciding on a service that best serves your clientele, you should have the necessary paperwork to begin working with the supplier. Additional paperwork may be required, depending on the service provider. Your mobile recharge company partner may request a license, permitted storefront, government business permit, proof of citizenship, etc.
Register yourself
To become an official provider of online mobile recharge services and engage in international sales, you must compile the necessary paperwork and submit it to the appropriate solution provider.
Set up machinery
Mobile phone recharging websites typically only need a little money or equipment to launch. You can open a storefront immediately if you own a smartphone or computer with an active data plan and access to the internet.
Loan Application
You can now request a credit recharge from your service provider because you are a fully authorized and qualified agent. There is no maximum credit limit and a minimum quantity to recharge.
Market Your Products
If you become an agent or reseller, you can market and sell a wide variety of foreign mobile services, including recharges, top-ups, data, vouchers, PINs, and more, from a central location. Every trade will result in a net profit for you.
How Can I Make Money as a Recharge Distributor?
Becoming a distributor requires you to build a team of retailers to sell your goods. The higher the figure, the greater your earnings potential. With each successful customer recharge, one can accrue earnings. The all-in-one recharge distributor will take a small cut from each recharge made by the retailer, and the retailer will take a tiny cut from each recharge made by the distributor. Ultimately, it's a reliable income stream that will only grow. Joining a reputable company that offers the highest recharge commission in the sector will get you started in the online recharge business.
Conclusion
The cellphone recharge industry provides dual advantages. Subscribers benefit since they offer an easy and quick method to top off their mobile phone accounts. At the same time, mobile service providers can benefit from the mobile recharge industry by gaining access to a low-cost, high-engagement recharge solution for service delivery and recharging. In the fast-evolving telecom industry, significant benefits are expected. More conveniences and simple recharge methods are available to clients and service providers.