Advantages of Digital Bill Payments and Online Recharge
Making money is the whole reason for starting a company. The capacity to accept payments from clients is crucial to any business that hopes to turn a profit.
Thanks to developments in computing, online payment methods are now an integral element of the electronic commerce sector. And it's easy to see why, given all the perks associated with electronic transactions.
The COVID-19 pandemic has increased the popularity of online payment methods such as credit/debit cards, UPI, and mobile banking worldwide, particularly in India.
These e-payment systems are becoming increasingly vital for sellers and buyers as more and more companies integrate online payment gateways into their portals.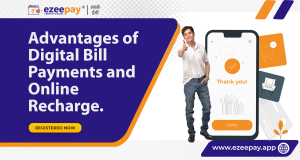 The advantages of making electronic payments are phenomenal
Cash flow is essential to the proper operation of any firm. That's why many companies prefer to be paid via digital means. Using an electronic payment system can save time and money for businesses. Quickly settle your bills with the convenience of electronic payments.
Electronic payment systems also enable instantaneous cash applications and provide for precise financial record reconciliation. As a result, your bookkeeping will be more accurate and easier to maintain. However, there are significant additional benefits of utilizing an electronic payment solution, including the following:
Immediate Payment
The processing time for an electronic payment is significantly lower than that of a cash or cheque payment. You are open to time and place when dealing with Internet transactions. You can send money at any time from any location in the world.
Due to the prevalence of online banking, traditional banking services are no longer necessary. Your clientele may finally avoid the hassle of banking queues. They can send you money quickly and easily through a mobile payment app.
Safer financial transactions
Despite its many benefits, electronic payment systems have yet to catch on with retailers. They last changed their payment procedures a few decades ago. As a result, they need to take advantage of opportunities to expand their business and serve more people.
Tokenization, encryption, Secure Sockets Layer (SSL), and other methods are safeguards built into today's widespread use of electronic payments. Customers can avoid repeatedly entering credit card information by saving their details or using a One-Time Password (OTP) to make purchases.
Improvements in customer ease of use
Make your client's payment experience more convenient by accepting electronic payments. By providing a "pay later" option, you give your consumer the option to buy products on credit. Payments can be collected automatically after a set time, saving you the trouble of constantly reminding clients to pay you.
International Exposure
The ability to accept payments from customers worldwide is a major perk of the rise of e-commerce and payment gateways—more than half of internet customers, as shown by surveys and studies, favor making international purchases. If you can accept payments online, you can reach customers worldwide, increasing sales.
Reduces the expense of processing
You must partner with a card processor to accept client payments. The processor will supply you with a payment gateway for processing and will charge you a flat rate for this service. The price tag is exorbitant.
On the other hand, electronic payment systems spare businesses the significant costs associated with traditional payment methods. Paying a fixed monthly fee to your service provider is all that's required.
There is a low risk of theft
"Cash is king" is a common saying in the corporate world; however, it has drawbacks. There is a risk of theft if you accept cash payments from customers. In addition, you should use extreme caution while depositing money into your bank account.
However, this danger can be mitigated by employing a reliable electronic payment mechanism. Using it will keep you from worrying about your credit score. You may quickly and easily obtain a detailed accounting of all your dealings.
Transparent
When it comes to money, openness is of paramount importance. Being forthright about any financial dealings is especially important when dealing with customers via the Internet.
With electronic payments, you may rest assured that no paper trail will be left behind. Customers can also prepay if you give them the payment information in advance. To reduce the potential for misunderstanding.
Contactless
People have started looking at techniques to avoid physical contact with others as a precaution against contracting the coronavirus during the current COVID-19 outbreak. Because of this, the demand for contactless methods of payment has skyrocketed.
Contactless point-of-sale terminals allow you to do business without physically touching any customers. Payees can hold their phones near the terminal to have their payments processed. In addition, you may offer your clients the choice of paying with QR codes or One-Time Passwords (OTP).
Options for various forms of payment
Give your clients several ways to pay with online payment tools. Customers are more likely to complete a purchase from you if they can tailor it to their specific needs and tastes.
Easy to control
Money and other financial information can be more easily managed and stored when paid for and stored online. Many resources exist online to facilitate business dealings between sellers and buyers.
You can let the tools manage your money instead of keeping track of it yourself. Not needing cards or cash makes things even simpler.
Benefits for Supplier Relationships
Electronic payments are instant, transparent, and secure compared to conventional checks, which must be written, processed, and deposited into the supplier's bank account. Relationships with suppliers can be enhanced simply by paying them on time and giving them full transparency in the payment process.
In addition, your AP department will receive fewer supplier inquiries when you use electronic payments to streamline the payment process. That's a huge gain in efficiency, as 43% of AP teams spend over 6 hours each week responding to vendor inquiries about payments. Strengthening and maintaining good supplier relationships during supply chain interruption is especially important.
Facilitate telecommuting and hybrid workplaces
Businesses worldwide have realized that remote and hybrid work arrangements are here to stay. Furthermore, manual processes are no longer viable due to the presence of distant invoice approvers, and payment authorises, which causes delays in the processing of invoices and payments.
This creates a chaotic framework for approving payments and slows the overall payment processing system. On the other hand, a digital electronic payment platform doesn't require an authorizer's physical presence to process payments. Not only are invoices documented and coded in a centralized system, but the approval, payment, and execution of supplier payments are streamlined.
The ability to make periodic payments
Online payment processing has greatly simplified the functioning of subscription markets. Payments were often made periodically, either in cash or by card.
Customers no longer need to manually submit payments or make special trips to pay at a physical place. Both the seller and the buyer will appreciate the streamlined payment process this creates.
Conclusion
Since the introduction of the online payment system, the volume of cash transactions has drastically fallen. Shortly, online transactions will replace traditional ones. By accepting payments online, your company will appear more forward and user-friendly.