Choosing the Perfect Money Transfer Business Franchise: Essential Tips and Factors
It is difficult to discover a profitable company strategy that does not require a significant initial investment in today's era of entrepreneurship when most revenue streams are declining or unpredictable.
Rare are the businesses that guarantee high returns on little investments. One model that has seen exponential growth and steady expansion is the money transfer business/Money transfer agency franchise.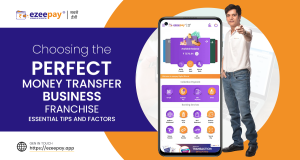 How does the Domestic Money Transfer Industry function in India?
Domestic money transfer allows any person to visit a DMR or fintech agent to send or receive money within the country. With this service, a sender only requires the recipient's one-of-a-kind phone number to deposit funds into their bank account.
Here, the DMR agent transfers money from one bank account to another using IMPS or NEFT or from cash to an online bank account via any money transfer Fintech platform, all while pocketing a healthy commission. Migrant workers use this service to remit money to their loved ones back home.
Which online money transfer portal is best for a new venture?
Customers should consider the following before signing on with any money transfer franchise.
Charges
The franchisee and transaction fees collected by the FinTech portal should be thoroughly investigated.
If your site has high transaction fees, it will take a lot of work to turn a profit.
Easy-to-use interface
The portal's interface should be intuitive, and it must be provided in your preferred language.
Good Communication
Making a healthy profit is why you're in business for yourself with a money transfer franchise. Before committing to one franchise portal over another, you should research and compare prices.
Help and reparation for problems
The Money Transfer Industry necessitates close observation and assistance. You should research your options thoroughly and select a Money Transfer gateway that offers helpful customer service.
What Should You Look for in a Money Transfer Franchise?
Determine Your Business Objectives
Taking stock of your money transfer business goals before purchasing a franchise is crucial. This step will allow you to examine your reasons for joining the franchise. Some basic and obvious inquiries into your motivations are provided here.
Do you prefer to be in the thick of things or in charge of the show?
Consider this question: "What's more important to you, the stability of a regular paycheck or the independence to do what you love?"
How much are you willing to put in?
How much profit are you anticipating?
These questions will help you choose the ideal franchise system by clarifying your goals.
Evaluation of Your Competencies
Assessing your strengths and shortcomings is half the battle. You should take stock of your current abilities. It's important to be in tune with your sense of ease and the attitude you've developed through your work. You should also consider whether you prefer working with clients and consumers from behind a store counter or in the field.
Research the franchise in depth
Buying into an existing franchise is one of the best ways to launch a successful business without risk. Because brands vary, it's crucial to research before choosing one.
Visiting the franchisor's website and reviewing its marketing materials is a great first step in learning about its business, products, and history.
Franchisees interested in learning more about the food service or wellness franchise sector might do so by consulting trade magazines and associations.
You may learn more about a franchise's reputation in the industry by checking out online reviews and customer comments outside of the franchisor's website and social media. Do those who buy the franchise recommend it to others? If not, why not?
As you learn more about the franchise, you should evaluate whether or not it represents your ideals.
Examine the numbers carefully as well. Investigate the franchise's ROI by studying its financial statements, such as startup costs, monthly fees, and prospective gains. You can use this data to determine whether or not investing in this venture will be profitable.
For Discovery Day, you should make a list of questions
You have probably already heard several praises about Discovery Day. This is where the franchisor introduces its business and gives prospective franchisees a closer look.
However, how can you maximise this precious time?
Get your questions ready in advance. Here are a few illustrations:
What makes this franchise unique in comparison to others in the same field?
Can you give me a rundown of the franchisees' training and ongoing support?
What kind of advertising and promotion help does the franchisor provide?
Can you describe some of the system's most successful franchisees and their steps to become so?
To what extent do franchisees get to choose their territories, and what resources are available to help them do so?
How much autonomy will I have over the day-to-day operations of my franchise, and are there any guidelines by which I must abide?
How long does it typically take a franchisee to break even?
What is the franchisor's policy on franchisee complaints or disputes?
Think about where you stand with the franchise
Make sure the franchise is a suitable fit for your money transfer business by honestly evaluating your talents, interests, and experiences before making any commitments.
Think about how your character and management style mesh with the ethos and requirements of the franchise.
If an opportunity isn't a good fit for you, there's no shame in rejecting it. Ensure your values are consistent with the franchises before investing in one.
It is prudent to assess your financial situation and ensure you can afford the franchise's initial investment, fees, and other costs. Some franchises are more expensive than others, so sticking to your financial plan is important.
This is a journey that you shouldn't have to make alone
Will the franchisor just leave you to your own devices, or will they help you succeed? Ensure the franchisor offers programmes and marketing initiatives to aid your launch and ongoing success.
Having a helpful franchisor behind you can make or break your franchise business.
Take your time signing the agreement
The money transfer business franchisor and franchisee enter into a legal contract described by the franchise agreement. You should read this agreement carefully and consult an attorney if you have any questions about its meaning.
Take special note of any upfront costs, recurring charges, royalties, or other limitations on how you can run your business.
You should also review the franchisor's rules for selling and promoting your franchise's products and services. Consultation with an expert, such as an attorney, to analyse the franchise agreement is highly recommended.
How big is the Money Transfer industry in India?
The newest forecast from 2023 estimates that the money transfer industry will be worth about 130 crores, with about 90 million consumers.
A monthly commission of 20,000 to 30,000 rupees seems normal for money transfer companies.
Conclusion
With a shop location or other means of reaching a substantial customer base, anyone can open a Money Transfer transfer franchise with little to no initial investment. Buying a franchise is a great way to get their foot in the door. However, before committing time and money to a franchise, it is essential to evaluate the possibility thoroughly.