Simplifying Online Money Transfer with Aadhaar Card: A Comprehensive Guide to Secure and Easy Transactions:
Online money transfer with an Aadhaar card has gained importance in today's digital age. The Indian government issues the Aadhaar card, a 12-digit unique identification number linked to a person's biometric and demographic information.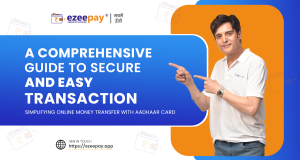 Here are some of the main arguments for using an Aadhaar card for money transfers:
Aeps money transfer with the Aadhaar card is fast and convenient. Users can send money anytime without visiting an ATM or a bank in person.
Regardless of wealth, age, or gender, all Indian residents are issued an Aadhaar card, a universal identity card. It states that anyone with an Aadhaar card can use the Aadhaar card to transfer money online. Banking services are provided to unbanked populations who may not have access to traditional banking services.
The highly secure Aadhaar Enabled Payment System (AEPS) uses biometric authentication to authorize transactions. AEPS minimizes the possibility of fraud or misuse of the system by ensuring that the account holder is the only person who can transact.
Sending money online with an Aadhaar card is a cost-effective way to do this. AEPS is a low-cost system that allows transactions to be carried out for free. It also eliminates the need for intermediaries, thereby reducing transaction costs.
By using online money transfers by Aadhar card, millions of unbanked people can access traditional banking services. Electronic money transfers contribute to greater financial inclusion, reducing poverty and promoting economic growth by making banking services accessible and affordable for all.
The Aadhaar card makes it easy to transfer money online:
The Aadhar card provides a unique identification number linked to a person's biometric and demographic data, simplifying the process of online transfer.
The Aadhaar card makes it easy to transfer money online in the following ways:
Using biometric authentication, the Aadhaar card enables paperless verification of the account holder's identity. Eliminating document verification makes the process faster and more efficient.
The Aadhaar card also facilitates completing the Know Your Customer (KYC) process, which is necessary to create a bank account according to the rules. The KYC process can be completed electronically without physical documents by linking the Aadhar card to the bank account.
Account holders can initiate fund transfers instantly using their Aadhaar number and biometric authentication using the Aadhaar Enabled Payment System (AEPS). This makes paperwork unnecessary and allows for quick and efficient fund transfers.
Different forms of methods
Aadhaar card users can transfer money using biometric authentication, Aadhaar-enabled payment apps, and a unified payment interface. Users can select the option that best suits their needs and preferences while enhancing the convenience and customization of the process.
With Aadhaar Enabled Payment System (AEPS) and other Aadhaar-based payment solutions, users can enjoy the benefit of extremely low transaction costs. This means that users can transfer money with ease, without having to worry about incurring high fees or transaction costs.
Understanding the Online Money Transfer Process with Aadhaar Card:
Step-by-Step Instructions
Registration Requirements and Procedures:
The registration process for online money transfers via Aadhaar may differ depending on the Platform or service used.
However, most platforms require the following actions:
Link the Aadhaar card to the bank account
To start registration, users must link their Aadhaar card to their bank account through the bank's website or mobile app. This will happen by entering the Aadhaar number and completing the verification process.
The User must complete the KYC verification process, which includes submitting a copy of their Aadhaar card and any other required documents, if applicable. On some platforms, customers can authenticate using their Aadhaar number to complete the KYC process online.
Before using the Platform or service to send money online, users must open an account there. It may be necessary to provide basic information such as name, email address, mobile number, etc.
The User can initiate an online money transfer using his Aadhaar number and biometric identification when creating and validating his account, or he can use any other relevant method provided by the Platform.
In general, the following documents are required for Aadhaar-based online money transfers:
To use the Services that require an Aadhaar Card, the User must have a valid Aadhaar Card.
The User must have a bank account linked to their Aadhaar card to use online money transfers.
According to the platform requirements, a user who has not completed the online KYC process through Aadhaar authentication may need to provide additional documents such as a PAN card, passport, driver's license, etc.
Limits on Transactions and Eligibility Requirements:
Depending on the service provider, different Aadhaar cards may meet different eligibility requirements for online money transfers.

However, here are some typical specs:

Users must have an existing Aadhar card issued by UIDAI.

The User must link his bank account to his Aadhaar card.

The User's bank account must go through the KYC process.

To use the online money transfer service, the User's device must be internet-enabled. Transaction restrictions for using an Aadhaar card for online money transfers also vary depending on the service provider and the nature of the transaction.
Here are some of the specific transaction limits:
the standard minimum transaction limit ranges from Rs. 10 to Rs. fifty

the daily limit is Rs. 20,000, while the maximum transaction limit for the Aadhaar-enabled payment system is Rs. 10,000 per transaction. However, some service providers may have more restrictions.

the maximum limit for other online money transfer methods, including NEFT or IMPS, depends on the User's bank account and may vary from bank to bank.
Aadhaar Card Online Money Transfer Security Measures:
Online money transfers with the Aadhaar Card are safe, and various security measures are in place to protect user information and prevent fraudulent activity.
Here are some of the security measures:
To make an online money transfer with the Aadhaar card, you must provide biometric identification or receive a one-time password (OTP) on your registered mobile device. It ensures that transactions can only be initiated and completed by authorized users.
Data sent during the online money transfer process is encrypted to prevent interception and tampering.
To ensure that the security and integrity of user data are not compromised, online money transfer platforms use secure gateways to transmit data.
Two-factor authentication
Many banks and online money transfer service providers use two-factor authentication, which requires the User to present two different forms of identification before a transaction is approved. This may include a combination of the biometric scan, PIN, and password.
Service providers record every transaction, which helps detect and investigate fraud.
To maintain transaction security, service providers follow the rules and regulations set by UIDAI and RBI.
Conclusion
Aadhaar money transfer is effortless now. But there are some things you should know about transferring money. The above article mentioned the information about transferring money using an Aadhar card. If you are new to digital payments, this article is for you.