How to Start a Mini ATM Business with Ezeepay: A Comprehensive Guide to Setting Up a Successful Business:
Ezeepay, founded by Mr. Shams Tabrej, is a mobile payment app enabling customers to make online purchases. Its agents can also facilitate Mini ATM Business by offering bill payments for phone, gas, electricity, internet, and more.
On the other hand, mini ATMs are compact and portable devices that allow customers to use debit cards to perform various banking transactions, such as cash withdrawals, deposits, balance inquiries, and funds transfers. Mini ATMs are often used in rural areas with limited access to banking services. People can enjoy banking services without going to a banking institution using small ATMs.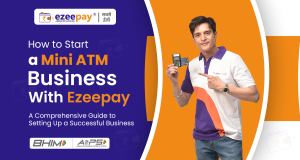 Understanding the Mini ATM Industry:
Users can access financial services in remote or rural areas through portable mini ATMs. These devices allow customers to use their debit cards to perform various financial transactions, including cash withdrawals, deposits, and fund transfers. The Reserve Bank of India (RBI) regulates the use of mini ATMs in India. Licensed correspondent banks can only operate mini ATMs under the rules governed by the RBI. The agents can be individuals, non-profit organizations, or other organizations approved by the RBI.
Mini ATMs must be connected to the bank's network for safe and reliable transactions. Mini ATMs must be installed, used, and should maintain specific rules. For example, the mini ATM should be in a safe and accessible location with adequate lighting and ventilation. Mini ATMs should also include appropriate security features such as biometric authentication, camera surveillance, and a PIN-based system. A mini ATM agent earns a good amount of money every month.
Additionally, the RBI has stipulated that all transactions conducted with mini ATMs must be documented for auditing purposes. Each Mini ATM must be equipped with a printer so the user can obtain a receipt as proof of the transaction. Researching the small ATM laws and regulations in your state or jurisdiction is the first step in opening a small ATM.
Laws and regulations governing the transmission of money vary from state to state. It is important to confirm that you follow the rules of your region. In addition to laws governing the transmission of money, you must also comply with consumer protection laws. These laws protect consumers from unfair or dishonest business practices. Ensure your privacy policy is clear and concise and discloses all costs and terms associated with using the mini ATM. It's also important to make sure your mini ATM is secure. Use strong security measures and passwords to protect your customer information. A mini atm owner earns mini ATM commission through every transaction.
How Ezeepay supports small ATM businesses:
Ezeepay is a payment processing company, that provides small ATM businesses with the tools and resources they need to operate successfully.
Ezeepay offers a wide range of services, such as:
Credit and debit card processing
Ezeepay allows small business ATMs to accept all credit and debit cards.
Ezeepay enables small ATM businesses to receive payments from customers made online. Ezeepay enables small ATM businesses to accept payments from customers using their mobile devices by mobile payments.
Ezeepay offers cash advances to help small ATM businesses cover costs until their profits flow.
Ezeepay offers 24/7 customer service to ensure small ATM businesses can resolve any issues.
Advantages of partnering with Ezeepay:
For mini ATM businesses, partnering with Ezeepay has many benefits.
Some of the main benefits include:
Ezeepay offers many services to help small ATM businesses process consumer payments through different modes. It enables businesses to accept customer payments across multiple platforms, including credit and debit cards, online shopping, mobile payments, and in-store point-of-sale systems.

Ezeepay mini ATM offers 24-hour customer service for businesses. This ensures that businesses can handle any issues efficiently and quickly.

Ezeepay provides cash advances to small ATM businesses. This allows businesses to pay their bills until sales increase.

Ezeepay has a history of providing high-quality payment processing services to small ATM businesses. This gives businesses peace of mind about dealing with a reputable company.
How to start Ezeepay Mini ATM Business?
With Ezeepay, starting a mini ATM business takes a few simple steps.
The basic concepts are as follows:
The first step is to create an Ezeepay account.

Complete the application and send the required data.

Once your account is approved, you can start accepting payments from customers.

If you have questions or need help setting up your account, please get in touch with Ezeepay customer service.
Required documents and minimum requirements:
You must be at least 18 years old to open an ezeepay account.

You must have valid identification, such as a passport or driving license, to prove your identity.

You must have up-to-date contact information and business address.

To process payment, you need a valid credit or debit card.
Management of your mini ATM:
When running a mini ATM business, it is important to keep the following points in mind:
Make sure you have enough equipment to meet customer demand.

Make sure your ATM is well-maintained and functional.

Make sure your payment processing method is reliable.

Make sure you have enough cash to meet customer demand.
Conclusion
Overall a mini atm business with Ezeepay is a great option. You can have a very good income here. In the above article, we have mentioned the best information about the business of ATMs with Ezeepay. If you are also interested in a new business idea and want to earn more money by doing a little effort, then this article is for you.