Start a Zero Investment Business with Ezeepay Digital Bharat: Opportunities for Growth and Earnings
Ezeepay Digital Bharat was founded in 2018 by Shams Tabrez to bring digital banking to rural areas of India. The founders aimed to leverage the existing retail networks in these regions to create additional income sources for business owners. One way to achieve this is by becoming an Ezeepay agent and starting a business with zero investment.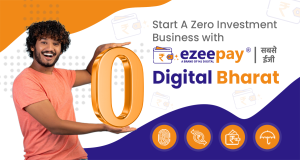 How to Start a Zero Investment Business with Ezeepay Digital Bharat
You can start a zero-investment business with Ezeepay Digital Bharat by joining as a retail agent. To be eligible, you must already have an existing retail business. Ezeepay allows you to offer additional services, such as money transfers, bill payments, travel booking, and insurance payments, to your current customers and more through the Ezeepay app. Additionally, you can buy micro-ATMs from the Ezeepay store and offer services through the Aadhaar Enabled Payment System (AePS).
Over 500,000 retailers are earning over INR 25,000 per month by offering Ezeepay services.
You can start a business with Ezeepay if you have one of the following:
Kirana Shop
Medical Shop
Apparel Store
Hardware Shop
Restaurant
Tailoring Shop
Fertilizer Shop
Travel Agency
For other types of stores, contact Ezeepay to determine eligibility.
To register as an Ezeepay agent on the Ezeepay Digital Bharat app, follow these steps:
Step 1: Download the Ezeepay Digital Bharat app from the app store (e.g. Google Play Store).
Step 2: Enter your phone number and wait for the One-Time Password (OTP).
Step 3: After verifying your phone number, fill out your personal details.
Step 4: Complete the personal details form, including address and location.
Step 5: Enter your PAN (Permanent Account Number) and Aadhaar number.
Step 6: Choose "Retailer" as the membership type to start a zero-investment business.
Step 7: Upon completion, you will receive a message indicating that you will be contacted by the nearest Ezeepay district office.
Other Ways You Can Join Ezeepay Digital Bharat That Assures Good Investment Return:
A. Distributor
As a distributor, you can earn commissions by expanding your area's reach of Ezeepay services. The commission earned can be more than 25% of your investment. To become a distributor, you do not need to have a dedicated store but should have experience in distribution services for industries such as telecom, pharma, retail, FMCG, etc. Contact Ezeepay for more information on becoming a distributor.
B. Master Distributor
As a master distributor, you can grow your business by expanding your network of agents and retailers and earning commissions from their transactions. To become a master distributor, you should have a good understanding of the digital payment industry, and a network that you can leverage to grow your business. It is a good investment opportunity for those who are looking to grow their business and earn a steady income.
C. District Franchise
As a district franchise of Ezeepay, you will be responsible for managing the network of retailers and distributors in your area. You will also be responsible for ensuring that the retailers and distributors are providing quality services to their customers. The district franchise will receive a commission on all the transactions made through the network, which can result in significant monthly earnings.
Conclusion
Additionally, If you are looking for a larger-scale business opportunity, you can consider becoming a master distributor or a district franchise. Both options offer higher returns and a larger network but come with a higher investment. Regardless of the type of business you choose, Ezeepay offers a range of opportunities to help you earn a good return on investment.