Start a Profitable Mobile Recharge & Utility Bill Payment Business in Rural India
For the majority of individuals residing in urban areas, mobile recharge and utility bill payment have become a seamless process due to the availability of digital platforms that allow for these services to be accessible at the touch of a button. However, India's vast rural regions still lack adequate digital banking infrastructure. Starting a mobile recharge business and an online bill payment business in these regions presents a unique opportunity to be a part of the progress toward more efficient digital banking.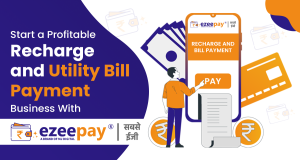 If you're interested in starting a mobile recharge or online utility bill payment business, you'll discover that there are numerous payment services and online platforms to choose from. To help make your decision easier, here are some of the basic methods these businesses operate:
Bharat Bill Payment System (BBPS)
The Bharat Bill Payment System (BBPS) is an extensive platform that provides a comprehensive solution for all billing and prepaid recharge needs. Established by the National Payments Corporation of India (NPCI) in 2013, it operates through a vast network of agents and accommodates multiple payment modes. BBPS has established itself as the most convenient and accessible way of paying recurring bills and recharging mobile phones in India.
BBPS is synonymous with online bill payment in India, so it goes without saying that almost all online banking and payment platforms host BBPS services. But how does one make a business out of online bill payments? Is there truly a way to make a profit out of paying bills for people? Is there a viable way to start a mobile recharge business?
To achieve the above-mentioned, one can become a BBPS agent and expand their existing business to include online utility bill payment and mobile recharge, and earn more at the same time.
Three Things to Know About Becoming a BBPS Agent
As an agent, you will serve as the customer service touchpoint and your retail shop will become a hub for providing online bill payment and mobile recharge services.
Display of the BBPS logo in your store will inform customers of the services you offer.
You will join through a Bharat Bill Payment Operating Unit (BBPOU), which can be either a bank or a company that has been authorized to conduct bill payment and aggregation business.
By being well-informed about these key aspects of becoming a BBPS agent, you can take the necessary steps to expand your business and provide valuable services to your customers.
If you are interested in becoming a BBPS agent, the following steps can help guide you through the process:
Reach out to a BBPOU or agent institution, such as Ezeepay Digital Bharat, to initiate the sign-up process.
Complete your Know Your Customer (KYC) and address details as required.
Acquire the necessary tools, such as a mobile application or a micro ATM device, which can be provided by Ezeepay Digital Bharat.
Display the BBPS logo and the name of the BBPOU or agent institution along with your name and agent ID in your retail shop, to inform customers of the services you offer.
By following these steps, you can become a BBPS agent and expand your business to include online bill payment and mobile recharge services.
AePS Portal
Aadhaar Enabled Payment System (AePS) can also be used in conjunction with BBPS, but owning an AePS portal provides a different set of opportunities compared to becoming a BBPS agent. AePS has been instrumental in bringing digital banking to rural areas and is a useful platform for people who don't have a debit or credit card. By acquiring a micro ATM through Ezeepay Digital Bharat, you can register for AePS and expand your business to include online bill payment and mobile recharge services, while earning commissions through these services.
Ezeepay Digital Bharat
Ezeepay Digital Bharat is a comprehensive service aggregation platform that can serve as an intermediary to simplify the process of becoming both an AePS service provider and a BBPS agent. The Ezeepay app and website are user-friendly, and the company provides ample support to ensure a smooth start for your business. Whether you own a grocery store, medical clinic, clothing store, hardware store, tailoring shop, or fertilizer store, you can easily become an Ezeepay retailer agent and increase your income.
The Final Thought
Slowly but surely every individual who is of age is starting to own a mobile phone and at the same time are looking to make bill payment easier for themselves. Here's where aspiring businessmen or people who already own businesses can step in. A mobile recharge business and an online bill payment business can be profitable with minimum investment and minimal effort, making it the perfect time and area to invest your money and effort in.