Conducting Banking Transactions Via AEPS: Tips And Tricks For A Smooth Experience
The AEPS (Aadhaar Enabled Payment System) has completely changed how people in India use banking services. Users can access their bank accounts using their Aadhaar cards as authentication in this safe and practical payment method. Service users can do several financial operations, including balance inquiries, cash withdrawals, deposits, and funds transfers. You must pick the best AEPS service provider and adhere to a few guidelines to get the most out of this service. The smooth operation of banking transactions using AEPS will be covered in this article.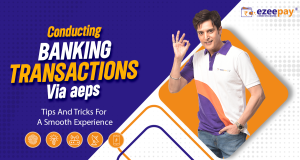 The Finest AEPS Service Provider To Select
Selecting the right service provider is the initial step in using AEPS. Several AEPS service providers in India include financial institutions, payment banks, and fintech companies. The vendor you pick should give various services and the best commission rates.
The AEPS commission calculator is a good option if you are seeking the best AEPS commission app. You can use this app for free to determine the commission rates of different AEPS providers. Other helpful app features include transaction history, real-time commission rate updates, and performance metrics.
Sign Up For AEPS
Once you have picked an AEPS service provider, you need to register for the service. The simple registration procedure can be completed online or through the provider's authorized agent. You must supply your Aadhar number, mobile number, and bank account information during registration. After completing the registration process, you will be given a special MPIN (Mobile Personal Identification Number), which you must enter each time you access the service.
Check Your Aadhaar Information
You must confirm that your Aadhaar information is accurate and current before using AEPS. You can update your information online via the UIDAI (Unique Identification Authority of India) website or the nearest Aadhaar Enrollment Center. Verify your Aadhaar information to prevent any problems with AEPS transactions.
Select The Appropriate Transaction Type
You can carry out four transactions using AEPS: cash withdrawals, balance inquiries, deposits, and funds transfers. Before you conduct a transaction, you must determine the proper kind based on your demand. For instance, you must choose the Cash Withdrawal option and enter the desired withdrawal amount to withdraw cash. Similarly, you must select the balance inquiry option if you wish to see your account's current balance.
Use The Proper Aadhaar Number
You must use your Aadhaar number as authentication to access your bank account using AEPS. Therefore, using the correct Aadhaar number throughout the transaction is essential. The transaction could fail or be erroneous if you submit the incorrect Aadhaar number.
Follow The Procedure
Every AEPS transaction has a workflow that you must pay close attention to. For instance, you must input your Aadhaar number, choose the bank account, enter the withdrawal amount, then enter the MPIN to withdraw cash. The process may fail or produce an erroneous transaction if you omit any steps or provide inaccurate information.
Keep Your Phone Number Current
The AEPS procedure requires your cellphone number because it is needed to create the MPIN and get transaction alerts. Thus, keeping your cellphone number current is essential to prevent transaction delays or failures. You can modify your mobile number by utilizing the bank's mobile app or visiting your local branch.
Examine The Transaction History
You should review your transaction history regularly to ensure that all of your transactions are accurate and appear in your bank account. In their apps, most AEPS service providers offer transaction histories you can access anytime. Any discrepancies should be reported immediately to your bank if you find them.
Ensure Sufficient Reserves In Your Bank Account
To make any AEPS activity, you must have adequate bank account money. Ensure your account has enough balance to complete the transaction before starting any transactions. Any attempts to withdraw cash or transfer money will fail without sufficient funds, and you risk paying extra fees.
Protect Your Aadhaar Card
Your Aadhaar card is a crucial component to accessing the AEPS service. Consequently, it is vital to maintain it safe and secure. You should keep your Aadhaar information private from everyone and should only sometimes carry the physical card. Moreover, you can carry a digital version of your Aadhar card on your phone using the mAadhaar app.
Conclusion
AEPS is a game-changer for the banking sector, opening up banking to millions of Indians. You can have a simple and trouble-free banking experience by choosing the right AEPS service provider and following the above tips and tricks. To prevent transaction failures or delays, pick the appropriate transaction type, maintain your current cell number, and ensure you have enough money in your account. Keep your Aadhar card safe and secure at all times, and routinely check your transaction history to ensure all transactions are accurate. By following these tips and tactics, you may make the most of AEPS and enjoy the benefits of quick banking.