The Power Of AEPS Business: Why Small Businesses Need To Embrace This Revolutionary Payment System
The demand for practical and effective payment methods has increased significantly as the globe changes. As a result, other payment systems have been created, including the Aadhaar Enabled Payment System (AEPS). AEPS is a new payment system that has the potential to alter the way small businesses operate. In this post, we will discuss the power of AEPS business, the best AEPS service, and why small businesses need to adopt this payment mechanism.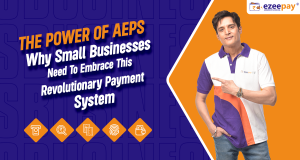 Describing AEPS
AEPS is a payment system that employs Aadhaar authentication for electronic transactions. Aadhaar is a unique identification number given out by the Indian government. It is identification proof and contains a person's biometric and demographic data. AEPS uses this particular identifying number to support electronic transactions. Anyone with an Aadhaar card can use this payment system operated by the National Payments Corporation of India (NPCI).
AEPS's Advantages For Small Enterprises
AEPS offers various benefits to small enterprises. The following are some of the main advantages of an AEPS business:
Convenience
Small businesses can collect payments from their clients using AEPS without requiring physical cards or cash. Customers who use biometric authentication and their Aadhaar number can make payments. Customers without debit or credit cards will find this to be extremely practical. AEPS can also help with various financial operations, such as fund transfers, balance inquiries, and cash deposits and withdrawals.
Greater Security
AEPS is a safe payment system since transactions use biometric data for verification. It lowers the possibility of fraudulent transactions and gives small businesses peace of mind. Biometric authentication minimizes the danger of identity theft, card skimming, and other fraudulent activity by guaranteeing that only the authorized individual may complete the transaction.
Simple Fusion
AEPS is a smooth addition to a small business's payment options because it is simple to connect with current payment systems. It indicates that to accept AEPS payments; small businesses are not obligated to invest in new hardware or software. AEPS transactions can also be started from any device with an internet connection, giving small businesses a flexible payment choice.
Financial Participation
By allowing electronic transactions for people who do not have access to traditional banking services, AEPS promotes financial inclusion. It includes people living in remote or rural locations who might need access to a bank branch or account. Small enterprises can expand their customer base and promote financial inclusion by accepting AEPS payments.
The Top AEPS Provider For Small Companies
Having examined the advantages of AEPS for small firms, it is critical to pick the top AEPS provider. While selecting the best AEPS service, keep the following things in mind:
It should be simple for small enterprises to accept payments using the AEPS service's user-friendly interface. The user interface should be simple to use, with instructions and feedback that are crystal clear.
Reliable customer care should be available through the AEPS service to help small businesses with problems or worries.
To guarantee secure transactions, the best AEPS service security measures should include multi-factor identification, encryption, and other security standards.
For the AEPS service to be an affordable payment alternative for small enterprises, transaction fees should be reasonable.
To meet the needs of growing small businesses, the best AEPS service should be scalable. The service must be capable of handling increased transaction volumes and offer additional features and capabilities.
Entrepreneurial Prospects With AEPS
AEPS also offers entrepreneurs commercial options. Entrepreneurs can register to become AEPS agents and provide AEPS services to local small businesses and consumers by becoming registered AEPS agents. Becoming an AEPS agent has the following advantages:
AEPS agent registration is an economical business opportunity for entrepreneurs because it involves little capital.
By offering customers financial services, you can increase your income by becoming an AEPS agent. Every action you take, such as cash withdrawals, balance inquiries, and fund transfers, can result in a commission.
Becoming an AEPS agent requires a relatively small investment compared to other businesses. You'll need a smartphone, an internet connection, and a small down payment to get started.
AEPS transactions are straightforward to use. The procedure entails authenticating the user with their Aadhaar card and completing the transaction via a mobile app or POS (Point of Sale) device. You don't need any particular expertise to become an AEPS agent.
Each transaction generates a commission for AEPS agents, ensuring a consistent flow of income.
By providing a simple and inexpensive payment option, an AEPS business can draw in new clients.
AEPS agent registration offers flexibility in terms of working hours and location.
Conclusion
The strength of AEPS resides in its capacity to provide small businesses with a safe, practical, and cost-effective payment method. Small businesses can simplify payment procedures, save transaction costs, and draw in more clients using AEPS's advantages. The commercial prospects provided by AEPS agent registration are also available to entrepreneurs. To remain competitive in the market and prepare for the coming cashless society, small enterprises must adopt AEPS.