Unlocking New Opportunities: How To Become An AEPS Agent And Grow Your Business
The Aadhar Enabled Payment System (AEPS) has changed how we conduct business in India. Individuals can use aadhaar numbers to conduct financial transactions in a safe, dependable, and effective method. Businesses and entrepreneurs now have more options than ever to become AEPS agents and retailers thanks to AEPS. This article will cover how to become an AEPS agent or retailer and expand your business by finding the best AEPS app.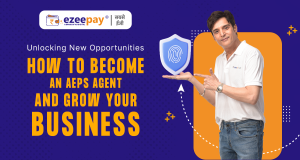 Registration For Becoming An AEPS Agent Retailer
An AEPS retailer registration is the first step in becoming an AEPS agent. Basic acts, including cash deposits, withdrawals, balance inquiries, and mini statements, are permitted for retailers to perform. The actions below must be taken to register as an AEPS retailer:
Get the AEPS provider's mobile application or go to their website.
Include your name, mobile number, email address, and Aadhaar number in the registration form.
Provide information about your company, including its name, address, and line of business.
Submit the necessary paperwork, including a copy of your PAN card, Aadhar card, and a check cancellation.
Send the registration form to the AEPS provider, then wait for them to accept your application.
After accepting your application, you will get a confirmation message on your registered mobile number. Following that, you can begin providing AEPS services to your clients.
Registration For Becoming An AEPS Agent
You must sign up with a bank as a Business Correspondent Agent (BC Agent) to work as an AEPS agent. Agents from BC are permitted to complete more complicated tasks like creating new accounts, disbursing loans, and paying insurance premiums. The actions below must be taken for AEPS agent registration:
Choose a bank that provides AEPS services, then contact their BC agent registration division.
Include your contact information, both personal and commercial, in the registration form.
Submit the necessary paperwork, including a copy of your PAN and Aadhaar cards, and check cancellation.
Attend the bank's training session, then pass the certification test.
Following bank rules, deposit the security sum and pay the registration cost.
Await the bank's approval of your application before requesting the agent ID.
Once your application has been accepted, you can represent the bank in AEPS transactions. Offering various financial products and solutions to your consumers will enable you to increase your revenue and earn a commission on each transaction.
Online Process For AEPS Registration
With the introduction of online registration, the AEPS registration process has become more convenient and straightforward. Several suppliers provide options for AEPS registration online through their websites or mobile applications. Save the inconvenience of traveling to a physical location by completing the registration procedure from the convenience of your home or business.
Finding The Best AEPS Apps
The success of your AEPS business depends on your ability to select the best AEPS app. Here are some of the essential features to look for in an AEPS app:
Retailers and agencies should find signing up for the app simple and quick.
With the app, you should be able to view the history of earlier transactions and track each development.
The program must support a wide range of languages to serve consumers from various locations.
The app should provide 24/7 customer support to address any problems or questions.
The app should support secure transactions to safeguard your client's sensitive financial information.
The app should support several payment methods, including UPI, net banking, and debit/credit cards.
The app must provide a clear revenue structure and affordable prices for shops and agents to earn.
The app could provide more features like bill payments, cellphone recharges, and money transfers to attract more users.
You may simplify your operations and give your consumers a flawless experience by selecting the best AEPS app.
Expanding Your AEPS Business
Following these tactics can help you expand your business once you become an AEPS agent or retailer:
To foster confidence and loyalty among your clients, provide dependable and effective AEPS services. Referrals from word-of-mouth consumers might help you expand your clientele and build your company.
You can grow your company by adding new services such as mobile recharges, bill payments, and money transfers. It could boost your customer base and revenue.
Provide round-the-clock customer service and swiftly address any problems or questions. Doing this lets you draw in new clients and keep your current ones.
Use social media sites and other marketing avenues for advertising your AEPS company. You can reach a larger audience and draw in more clients.
Partner with other companies like shops and e-commerce sites to grow your consumer base and boost sales.
Conclusion
Becoming an AEPS agent or merchant can open up new possibilities for your business. You may provide dependable and effective financial services to your clients by going through the registration process and using the best AEPS app. By implementing the above-described tactics, you can expand your company and find long-term success in the AEPS industry.