Going Digital: How To Register For AEPS Online And Start Offering Digital Payment Services
In today's digital era, keeping up with the ever-changing market trends requires offering cashless payment solutions. For small companies throughout India, the Aadhaar Enabled Payment System (AEPS) has emerged as a game-changer, thanks to the advent of digital payments and mobile banking. If you're looking to join this revolutionary movement and start providing digital payment services, look no further! This article will guide you through the process of enrolling for AEPS online and help you get started on your path to a cashless future with the best AEPS app in India. So, let's dive in and get ready to go digital!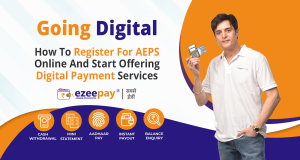 What Exactly Is AEPS?
AEPS is a digital payment service provider that allows companies to offer their customers digital payment options. AEPS accepts a variety of payment methods, including card swipe and tap, EMV chip and signature, and mobile payments. To get started with AEPS, businesses need to create an account online. Once they've completed the AEPS registration process, they can start offering digital payment services to their customers.
The Aadhar-Enabled Payment System Offers Banking Services (AEPS)
Cash Deposits
The Aadhaar Enabled Payment System (AEPS) is an online payment system that allows users to make payments using their Aadhaar number. Operated by the National Payments Corporation of India (NPCI), AEPS enables users to pay for goods and services online, in retail locations, and through automated teller machines (ATMs).
AEPS provides several financial services that promote more efficient money management, including cash deposits into your bank account, online payments, and ATM withdrawals. Additionally, AEPS offers a range of financial products and services, such as credit cards, insurance, and mutual funds.
Cash Withdrawal
The government-run Aadhar Enabled Payment System (AEPS) allows Indians to withdraw cash from any bank or post office. AEPS is supported on all Android and iOS phones, and the app can be downloaded and registered through Google Play or the Apple App Store. To register, users need to provide their Aadhar and bank account details for authentication. Once authenticated, users can select the bank branch and the amount they want to withdraw. AEPS also offers live chat support for added convenience.
Balance Verification Service
The Aadhar Enabled Payment System (AEPS) offers a range of banking services that simplify account management for users. With AEPS, customers can open savings accounts, transfer money between accounts, sign up for insurance, and more. AEPS also enables customers to use their Aadhaar numbers for debit and credit card payments. The balance inquiry service allows customers to check their bank balances and review recent transactions. Indians can access these services both online and over the phone.
Mini Statement Processing
The Aadhar Enabled Payment System (AEPS) enables users to make payments using their biometric information, such as fingerprints or eye scans. AEPS was created by the RBI in collaboration with the National Payments Corporation of India and is powered by the Aadhaar database.
Consumers can use the AEPS platform to pay for products and services online or at partner retailers. The platform also allows customers to conveniently view their bank account balance, transaction history, and recent transactions.
Transferring Money From Aadhar To Aadhaar
The Aadhar Enabled Payment System (AEPS) is a payment system that allows users to use their bank accounts to make purchases. AEPS verifies the user's identity and authorizes a payment using the Aadhaar card number. Aadhaar authentication may also help transfer funds between bank accounts. This service is available exclusively to Indian people with an Aadhaar card.
Conclusion
If you want to provide digital payment services to your consumers, AEPS is the ideal platform. The simple online registration procedure and extensive feature set make it simple to get up and running fast. Their customer service staff is also accessible 24/7 to assist you in getting started and navigating the platform's many features. So, why delay the good things in life? Become an AEPS agent and begin providing your clients with the convenience they need and deserve!