A Comprehensive Guide to AEPS App Download: How to Download and Use AEPS App for Secure Transactions as an Agent
AEPS is a payment system compatible with Aadhaar, the Indian government's biometric identification system. The Ezeepay app allows agents to perform various banking tasks, such as making multiple payments, transferring money between or within banks, withdrawing cash, depositing funds, and checking account balances. With AEPS, you can conduct all your financial transactions through a single platform that is user-friendly, secure, and hassle-free. If you're looking for the best AEPS commission app that offers secure and efficient banking services, look no further than the Ezeepay app for aeps services.
The ezeepay allows users to make payments using their Aadhaar credentials and authenticate transactions at the point of sale (PoS) or mini ATMs. The National Payments Corporation of India (NPCI) is promoting cashless transactions in India through such initiatives.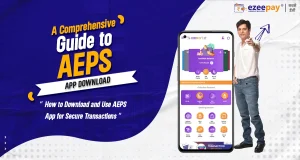 The Aadhaar-enabled Payment System (AePS) aims to support the digital India initiative and encourage people to avoid cash transactions. Apart from this, AePS has several other objectives, including:
Enabling individuals from all backgrounds to access banking and financial services by verifying their Aadhaar and unique identification numbers.

Assisting the Indian government and the Reserve Bank of India in ensuring every citizen can access financial resources.

Promoting digital payments and money transfers that do not require cash.

Providing various banking services that work in conjunction with Aadhaar.
If you're interested in downloading the Ezeepay app or becoming an AEPS agent, you can follow these simple steps:
Step 1: Go to the Play Store or App Store on your smartphone and download the Ezeepay app.

Step 2: Register with your phone number and complete the verification process.

Step 3: Fill in your name and address details and select your membership type.

Step 4: Verify your Aadhaar and PAN details.

Step 5: Within 24 hours, the customer support team will contact you with further instructions.
By following these easy steps, you can download the best AEPS app and start enjoying a safe and convenient digital banking experience. Additionally, becoming an AEPS agent with the Ezeepay app can provide you with a rewarding opportunity to earn a commission while helping others access financial services.
How to Use Ezeepay App for Secure Transactions in AEPS
Keep your Aadhaar details safe and secure. Do not share your Aadhaar number, biometric data, or other personal details with anyone.

Always use a secure and trusted internet connection when using the AEPS app.

Make sure to verify the details of the transaction before you authorize it. Check the amount, beneficiary details, and other important information before proceeding with the transaction.

Be cautious of phishing scams or fraudulent websites that may try to trick you into sharing your Aadhaar or banking details. Always double-check the website URL and make sure it is an official and secure website.

Keep your app and mobile device updated with the latest security patches and software updates to ensure maximum security.

If you notice any suspicious activity or unauthorized transactions, immediately contact your bank and report the issue.
It is important to use the Ezeepay app only on trusted devices and networks. Additionally, always verify the transaction details before confirming to avoid any errors or unauthorized charges. By following these simple steps, you can easily use the Ezeepay app for all your banking needs and enjoy a safe and secure digital experience in AEPS.
Benefits of Using the Ezeepay App for Secure Transactions:
For customer:
The payment method is 100% safe and secure.

No need to bring a debit or credit card or checkbook.

You only need your Aadhaar number to do it.

Withdraw the money easily without going to an ATM.

Take your time in big lines at the bank or the ATM.

You don't have to go far; go to the nearest AEPS Agent.

The deal is quick and only takes a minute to finish.
For Agents and Distributors of AEPS:
Maximum return on the least amount of money spent.

To start a business, you only need a smartphone and a biometric device.

Get paid handsomely for your efforts.

Every trade is settled instantly and in real time.

In both browser-based and app-based forms.

The deal is quick and takes less than a minute to finish.

Spend every last cent you have.

Increased security and reliability
Enhanced Security and Reliability:
One of the key reasons for the widespread adoption of AEPS is its robust security framework. It is considered the safest way to conduct financial transactions, providing users with a reliable platform to transact without the fear of losing money. Some of the top security features of the Aadhaar-enabled payment system are:
Secure sign-in and sign-out process.

Each user must register independently, with their unique ID, 3D code verification, and OTP system connection.

Maintaining MAC and IP-based protection.

Integration of Captcha for enhanced security.

API integration to further improve security measures.
These security features collectively make AEPS one of the most secure payment methods available, providing users with the confidence and peace of mind they need while transacting.
Conclusion
AEPS app download and usage have become crucial in today's digital age. The app's easy-to-use interface, along with its security features, has made it a popular choice for merchants and individuals alike. It eliminates the need for cash transactions, making it an excellent option for small businesses, sellers, and customers. The Ezeepay app's safety features, including biometric authentication, sign-in/sign-out options, and IP-based protection, ensure that users' data and money remain safe. With AEPS, you can make secure transactions anytime, anywhere, without worrying about the safety of your funds. Overall, Ezeepay usage is a step towards a more convenient and safe future of digital payments.