How to Start a Successful Money Transfer Business with Ezeepay: A Comprehensive Guide
Mr. Shams Tabrez founded Ezeepay Digital Bharat in 2018 to increase digital banking access in rural areas of India. Leveraging the existing retail infrastructure in these regions, the company aimed to create new revenue opportunities for local entrepreneurs. As an Ezeepay agent, you can start your money transfer business without any initial investment and begin offering financial services to your customers.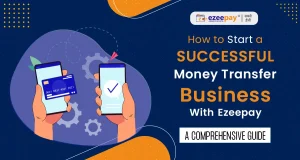 Understanding the Money Transfer Business
The term "money transfer business" describes the business that transfers money between people or organizations, locally or worldwide. Banks, MTOs, and fintech companies compete in this sector by providing customers with various digital payment services. Globalization of trade and the proliferation of digital technology that provide instantaneous and low-cost money transfers have contributed to the market's meteoric expansion over the past few decades.
Companies that deal in aeps money transfer must adhere to anti-money-laundering regulations established by the countries' governments to which their clients send money to prevent the transfer of illicit funds and the financing of terrorist activities. Money transfer businesses risk punishment from government agencies if they do not adhere to these rules. Fines and disciplinary action are two examples of these consequences. In addition, Money Service Businesses that are involved in terrorist financing and money laundering suffer devastating reputational damage.
A money transfer app, often known as a P2P app or person-to-person payments app, is a mobile-friendly digital platform that facilitates the transfer of funds from one user's bank account to another user's bank account or digital wallet. With these apps, you can send and receive money quickly and easily, and there's no need for any physical currency, cheques, or credit cards.
Overview of Ezeepay's services for Businesses
Banking Services
As an Ezeepay Retailer, you can earn up to Rs. 50,000 per month by offering a wide range of financial services to your customers, such as Cash Withdrawal, Money Transfer, Cash Deposit, Mini Statement, Aadhar Pay, M-ATM, Balance Enquiry, Prepaid Cards, Loans, and many more.
Ezeepay also allows retailers to manage their customer credit and accounting. With this product, any storefront can function as a branch of a financial institution.
Utility & Bill Payments
Ezeepay's mission is to serve the modern entrepreneur who takes their financial future into their own hands. You make money by paying other people's bills, whether for electricity, postpaid services, or anything else.
Insurance Services
Ezeepay allows you to sell various insurance policies to local customers, from life insurance to auto insurance. The prices and coverage details of multiple plans can be compared so that stores can provide customers with various insurance options. You can make a solid living off of commissions by peddling insurance policies.
Travel Services
Ezeepay, a mobile payment program, has many uses for retailers. They might profit by reserving IRCTC, airline, bus, and other transportation tickets for customers in remote places. In addition, shops can earn substantial commissions by booking hotels for customers.
E-Governance Services
With Ezeepay, merchants in rural areas can provide their clients with various e-governance services, including PAN card creation. Customers can generate TTR filings, OST registrations, MSME registrations, and other financial papers recognized by the government without ever having to set foot inside a government office, thanks to the tools included in Ezeepay.
Neo Banking Services
Be your consumers' bank of choice by adopting Neo Banking practices. All of the banking services it offers are open for you to provide, and that's not all. Gain a cut of the action with every successful platform transaction. Increase your income by increasing your social interaction.
Advantages of partnering with Ezeepay
Lowest Possible Outlay
All of their services are available on a safe, low-cost platform.
Numerous Goods and Services
The company provides its agents with 60+ services to help them provide the best possible service to their customers.
Get Paid With Every Sale You Make!
With Ezeepay, affiliates can earn a maximum commission on all service transactions.
Respect and Loyal Clientele
The confidence and dedication of Ezeepay's agents allowed the company to grow to a family of 500k agents.
Steps to Starting a Business with Ezeepay
By becoming a retail agent for Ezeepay Digital Bharat, you may launch a profitable business with no initial capital outlay. You need an established retail operation to qualify. Through the Ezeepay app, you can extend your business offerings to include money transfers, bill payments, travel bookings, and insurance payments. In addition, the Ezeepay money transfer agent portal sells micro-ATMs that may be used with the Aadhaar Enabled Payment System. (AePS).
By accepting Ezeepay, nearly half a million merchants are increasing their monthly revenue by more than INR 25,000.
If you have one of the following, you can use Ezeepay to launch your business immediately:
Kirana Store,

Medical Stor

Clothing Store

Hardware Store

Restaurant

Tailor

Fertilizer Shop

Travel Agency
Stores of a different type should contact Ezeepay to see if they qualify.
Here are the steps you need to take to become an Ezeepay agent
Step 1: Get started with Ezeepay Digital Bharat by installing it from the app store. (e.g. Google Play Store)
Step 2:  Key in your phone number and look out for an OTP:
Step 3: After verifying your phone number, fill up your profile information.
Step 4: Give your home address and phone number on the form. 
Step 5: Fill in your Permanent Account Number (PAN) and Aadhaar.
Step 6: Select "Retailer" as your membership type to launch your risk-free enterprise
Conclusion
Furthermore, becoming a master distributor or a district franchise is an option if you are seeking a business opportunity on a greater scale. Despite the higher upfront costs, both strategies result in greater profits and access to more resources. Ezeepay provides numerous options for generating a healthy profit margin, regardless of the nature of your business.