The Benefits of AEPS Registration as Agent : How Ezeepay Offers Profitable Opportunities for Agents
To sign up, you must give information about yourself and your business, upload any necessary papers, and go through the verification process. The agents need a legal PAN card, an Aadhaar card, and a bank account to finish the AEPS registration process. The agent also needs a device like a micro-ATM or a Point of Sale (POS) terminal for deals.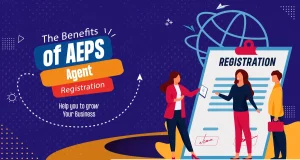 After completing the online AEPS registration, agents can provide customers with a range of financial services, including balance inquiries, cash deposits and withdrawals, money transfers, and bill payments. The agent earns a commission every time the AEPS service is utilized.
It is important to know that the government regularly audits the AePS agent registration process to ensure that all registered agents follow the government's rules and standards. It could seem overwhelming at first to register as an AePS agent. Still, it is a great way for people and businesses to offer financial services to their customers and earn a commission on each transaction.
Ezeepay is a good AePS platform for service that workers can use. It is very reliable, and as the name suggests, it makes it easy for customers to use AePS services. It is not only easy, quick, and handy, but it also doesn't cause any trouble. With Ezeepay, the agents don't have to worry about their customers' purchases and requests. Agents for Ezeepay can tell their customers about cash transfers, balance checks, Aadhar pay, and other services.
Benefits of Aeps Registration as Agent with Ezeepay:
Some of the primary benefits include the following:
AEPS allows small businesses to get money from their customers without needing cards or cash. Customers can pay for things using biometric identification and their Aadhaar number. This is very helpful for customers who need debit or credit cards. AEPS can also help with different financial tasks, such as transferring money, checking your amount, and putting and taking out cash.
AEPS provides a secure payment method that verifies transactions through personal data, giving small businesses peace of mind and reducing the likelihood of scams. Biometric authentication ensures that only authorized individuals can complete transactions, significantly reducing identity theft, card skimming, and other forms of fraud.
AEPS is an easy way for small businesses to add to their payment choices because it is easy to connect to existing payment systems. Small companies must avoid buying new gear or software to accept AEPS payments. Small businesses have the added flexibility of initiating AEPS purchases from any internet-connected device, expanding their payment options.
AEPS helps bring people into the financial system by letting people who don't have access to standard banking services use electronic transactions. It includes people who live in rural or remote areas and need access to a bank office or account. By taking AEPS payments, small businesses can get more customers and help more people get access to the banking system.
Profitable commission rates for AEPS transactions:
Every time a customer purchases, you would get a 1.25% fee. This means that there are many ways to make money with AEPS. You can also figure out how much money you can make each month by calculating your monthly payments.
To make more and more money, all you have to do is persuade your customers to pay through AEPS. You would get the POS machines, and customers would need to put in their Aadhar number and use their biometric data to verify the purchase.
Low investment and high ROI
A "low-risk investment" is one in which you think there is only a small chance that you will lose some or all of your money. An "investment with low risk" usually doesn't amount to much. A "high-risk investment," on the other hand, has a lot of risks and generally a lot of potential rewards.
How to Become an AEPS Agent with Ezeepay
A step-by-step guide to becoming an AEPS agent with Ezeepay
When registering for AEPS through the Ezeepay app for the first time, ensure you have your Aadhaar card, Permanent Account Number (PAN), and any other required documentation ready for agent registration.

Once you have all the necessary papers, fill in the following information in the space provided.
First name and last name

Your Email address

Your number for calling

State and city you live in
When you're done filling out this information, you'll need to enter the numbers on your pan card and aadhaar card and click "submit.

After the information is sent, the manager looks over it, and it takes a few days for them to respond. If the facts check out, you'll be approved, but if they don't, the admin will turn down your registration.

Once approved, you must fill out the information again and send scanned copies of your Aadhaar and PAN cards.

The last step in registering as an AePS agent is eKYC, where the agent needs to give the number on their Aadhaar card. To ensure security, a one-time password (OTP) is sent to the linked phone number, which must be entered along with a fingerprint scan.
After the process, the agent's information will appear on the screen, and they can help people use AePS services. Anyone can do aeps registration online for free.
Required documents and eligibility criteria:
For AePS agent registration to be complete, agents must pass the security test to ensure honesty. When registering as an AePS provider on Ezeepay, note the following things an event needs to do beforehand.
Offline KYC

Onboarding KYC

eKYC
Documents Required –
Aadhaar card

Pan card

Photo

Bank Passbook
How Ezeepay Supports Agents After Aeps Registration
If you become an AEPS dealer or retailer, these steps can help you grow your business:
Customer loyalty and trust can be earned by providing high-quality AEPS services. Referrals from happy customers could help you get more customers and grow your business.

You can grow your business by offering new services like recharging mobile phones, paying bills, and sending money to others. It could help you get more customers and make more money. Give customer service around the clock and quickly answer any questions or problems.

This lets you get new clients and keep the ones you already have. Use social media and other promotional strategies to promote your AEPS Company. You can meet more people and get more clients this way.

Work with other businesses, like shops and e-commerce sites, to reach more customers and make more money.
Training and development opportunities for agents:
AEPS also gives business owners choices for doing business. By becoming registered AEPS agents, entrepreneurs can offer AEPS services to small companies and consumers in their area. Here are some good things about becoming an AEPS agent:
Becoming an AEPS agent is a cheap way for entrepreneurs to start a business because it requires little money.

By becoming an AEPS agent, you can make more money by giving people financial services. Every action you take, like getting cash out, checking your amount, or moving money from one account to another, can result in a commission.

Compared to other businesses, it doesn't take much money to become an AEPS agent. You'll need a smartphone, a way to connect to the internet, and a small down payment to get started.

It's easy to do deals with AEPS. The user's Aadhaar card is used to prove who they are, and the purchase is completed through a mobile app or POS (Point of Sale) device. To become an AEPS worker, you don't need special skills.

AEPS agents get paid a commission on every deal, so they always have money.

An AEPS business can get new customers by giving them an easy and cheap way to pay.

Becoming an AEPS worker allows you to choose where and when you work.
Conclusion:
Becoming an AEPS agent or dealer can give your business access to new opportunities. If you go through the registration process and use the best AEPS app, you can provide your customers with reliable and useful financial services. Using the above strategies, you can grow your business and have long-term success in the AEPS market. Becoming an AEPS agent with Ezeepay is the best option.