Ezeepay Digital Bharat: Bridging the Gap in Rural Banking
Ezeepay is helping Indian villages go digital in banking by offering a range of financial services through its platform. Some of the services it provides include mobile recharge, utility bill payments, money transfers, and insurance. Ezeepay makes it possible for people in rural areas to access these services without having to travel to urban centers. This is achieved by partnering with local retailers, who act as agents for Ezeepay. These agents are equipped with the necessary technology and training to provide the services to their customers. This helps in spreading financial literacy and making financial services accessible to people in rural areas. Ezeepay is thus making a significant contribution to the goal of making India a digitally empowered society.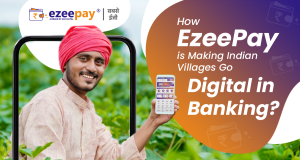 The founder, Shams Tabrej, observed that during the demonetization era, rural India was facing a challenge in adopting digital banking due to a lack of access to technology and exposure. However, this scenario is changing gradually as rural banking is catching up with the rest of the country, thanks to companies like Ezeepay Digital Bharat that focus on rural banking. With their presence, the gap in digital banking between rural and urban areas is being bridged.
Ezeepay Digital Bharat – About the Company
Ezeepay Digital Bharat is a leading service aggregator company focused on serving rural retailers in India. The company provides a comprehensive digital banking platform that allows rural retailers to offer services, earn commissions, and accept payments with ease. In addition to payment solutions, Ezeepay also provides a range of other digital banking services, including utility payments, e-governance services, insurance payments, and travel booking. With over 500,000 retail partners, Ezeepay has established itself as a prominent player in the rural banking sector and has set an ambitious goal of tripling its partner network by 2023.
How Does Ezeepay Work?
Ezeepay offers its rural banking services through the Ezeepay app, which serves as a one-stop shop for rural retailers to access all the services offered by the company. The app is user-friendly and makes it easy for retailers to provide services like AePS business. In addition to the app, Ezeepay also has an online store where retailers can purchase biometric devices and micro-ATMs to further aid their business.
One of the key benefits of joining Ezeepay as an agent is that there is no requirement for working capital investment or dedicated staff or storage space. This makes it an accessible and low-risk opportunity for rural retailers to enter the digital banking sector.
Who Can Become a Domestic Money Transfer Agent for Ezeepay?
Anyone with an entrepreneurial spirit and a desire to bring digital banking services to rural communities can become a domestic money transfer agent for ezeepay.
The company's agents are primarily composed of small business owners in rural areas, including:
Kirana stores: These are small retail shops that serve as the backbone of the rural economy.
Medical shops: Medical shops play an important role in providing healthcare services in rural areas.
Restaurants: Restaurants are common in rural areas and can provide a convenient location for customers to access Ezeepay's services.
Apparel shops: Apparel shops cater to the clothing needs of rural residents.
Tailoring shops: Tailoring shops offer sewing services and can also serve as an Ezeepay agent.
Hardware stores: Hardware stores provide essential supplies and equipment for rural residents and businesses.
Insurance agencies: Insurance agencies offer insurance services to rural residents and can also serve as an Ezeepay agent.
Travel agencies: Travel agencies provide travel services to rural residents and can also serve as an Ezeepay agent.
Fertilizer stores: Fertilizer stores provide essential supplies to farmers and can also serve as an Ezeepay agent.
These businesses are well-established in rural areas and have close ties to their communities. By becoming an Ezeepay agent, they can expand their services and bring the benefits of digital banking to their customers, ultimately contributing to the growth of rural India.
Ezeepay – Various Services Provided
Aadhaar Enabled Payment System (AePS)
Ezeepay Digital Bharat uses AePS as one of the platforms to bring digital banking to rural India, by providing AePS services through their retail agents. Retail agents can offer a wide range of services to their customers, like cash deposits, money transfers, balance inquiries, etc. By becoming a retail agent, individuals can not only serve their communities but also earn good commissions from the transactions. This results in the expansion of rural banking and contributes to the government's Digital India initiative.
Biometric Devices, Bluetooth Printers, and Micro ATM
The biometric device and micro ATM are the essential tools required to run an AePS business. They help in the authentication process and enable the retailer to provide various financial services like cash deposits, balance inquiries, and money transfers. Additionally, a Bluetooth printer can be used to generate transaction receipts. Ezeepay provides these tools to its retailers through its website and touchpoint stores.
Utility and Bill Payment
This makes it easy for consumers to pay for various services in one place, saving time and effort through Bharat Bill Payment System (BBPS). By becoming an Ezeepay agent, one can offer these services to customers and earn a commission for each transaction. The platform provides a convenient and efficient way for consumers to pay for services, and for agents to earn income. 
Travel Booking service
A retailer can offer various travel booking services to their customers through the Ezeepay app. The services include IRCTC rail ticket booking, flight booking, bus booking, and hotel booking services. By doing this, the retailer can provide a convenient one-stop solution for their customers' travel needs, making their customers' lives easier and expanding their business opportunities.
E-Governance Services
Ezeepay enables retailers to provide their customers with multiple government and business-related services. In addition to registering for GST and MSME, Ezeepay also enables retailers to perform PAN card registrations, and earn a commission for each successful registration.
Other Banking Services
Ezeepay enables agents and retailers to offer a range of financial services to customers, much like a traditional bank. This includes the ability to open digital accounts, apply for debit and credit cards, perform UPI payments, and even apply for loans. By offering these services, Ezeepay is bridging the gap in access to financial services in rural areas, and helping to bring digital banking to rural India.
Insurance services
With Ezeepay's insurance services, agents can offer their customers a wide range of insurance options, all available through a single platform. Customers can choose from health insurance, shop insurance, vehicle insurance, and more, and have the convenience of making payments and managing their insurance policies through their trusted agent. This not only helps customers in rural areas access insurance services that may otherwise be unavailable, but it also provides agents with a valuable new source of revenue.
Conclusion:
Ezeepay offers a wide range of services such as AePS, utility bill payment, insurance, neo banking, etc. which helps rural retailers to act as an agent of these services and earn a commission. With the help of biometric devices and mATMs, rural retailers can offer cash deposits, money transfers, balance inquiries, and other banking services to their customers. Ezeepay is continuously expanding its reach and services to become the largest branchless banking network of retailers in India and bridge the gap between rural and urban banking. The vision and mission of Ezeepay align with the government's goal of financial inclusion and digital India, making it a valuable addition to the growth of rural areas.